"When we try to pick out anything by itself, we find it hitched to everything else in the universe."

-John Muir



One of the most common questions I have been asked over the past few years has been "

What made you want to become a marine biologist?

" Being California born and raised, I have been lucky enough to explore incredible mountain and marine ecosystems. I have had a curiosity for nature and biology since I was young, but was heavily drawn to the

eccentricity of aquatic life. On every trip to the beach, lake, or stream I would end up in the water searching for something new to see.




Throughout my educational development,

awareness of environmental impacts and a general eco-consciousness has become deeply rooted in my life. This attitude was heavily fostered through the literature and the environment course offered at my alma mater, Union Mine High School. This course sparked a passion for environmental protection in countless students, myself one of them. This passion came to

fruition when I decided to pursue a Bachelor of Science degree in Aquatic Biology at the University of California Santa Barbara.

Studying the alien marine system had me captivated out of curiosity, but after learning about the current condition and rapid changes impacting it, I was certain this is where I needed to direct my focus.

Since I began diving in the field, my perception on the ocean has very much changed for the better. I am very fortunate to have had opportunities to see the system I love and study. My personal fascination has led to an enthusiasm for

underwater photography

. I use this hobby as a channel to share what I see with others that may not be able to have the same opportunities. I would recommend anyone who has been curious about diving to take any opportunity you can to get out there and explore. I am a

NAUI

Divemaster and would be happy to accompany any other enthusiastic divers!
Powered by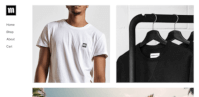 Create your own unique website with customizable templates.